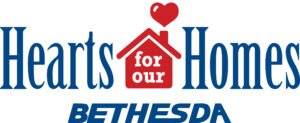 Bethesda is kicking off its Spring 2014 fund raising campaign, Hearts for Our Homes, May 19-30. This year's fund raising activities will have even more significance as Bethesda celebrates its 125th Anniversary. In honor of this special birthday, all donors to Hearts for Our Homes are encouraged to join the 125th Anniversary Club, which recognizes them with a specially designed anniversary lapel pin and mug emblematic for their generous donation.
Why Your Gift Is So Important:
Your tax-deductible gift helps us ensure that residents will always have a home at Bethesda.

Support of the BHG Foundation helps subsidize over 13.9 million in humanitarian care (financial assistance) that Bethesda provides to its residents in need.

With the future of Medicare and Medicaid funding in question, Bethesda is counting more on private contributions to support the increased need for financial assistance.

For the second year in a row, donors can also support a scholarship fund benefiting employees pursing continued education. insert link from last year winner
2014 Employee Ambassadors:
Join us as we celebrate Bethesda's 125th Anniversary and help us reach our fund raising goal of $85,000 for Hearts for Our Homes with your gift today.
Open your hearts so residents will always have a place to call home at Bethesda.Make your contribution by May 30, 2014.
[maxbutton id="1″]
Campaign Kick Off – Featuring "Hearts for Our Homes Baby" Rap Video
Hearts for Our Homes ambassadors perform an inspirational rap to kick off the beginning of the 2014 fundraising campaign. Hearts for Our Homes, baby!" Click to watch now.