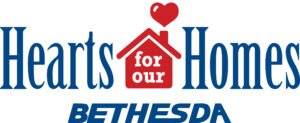 April showers bring May flowers.  Except for Bethesda where it brings our annual spring fundraising campaign, Hearts for Our Homes, May 23-June 3, to benefit residents with limited resources who live in our Bethesda communities or receive Bethesda services.  Campaign proceeds totaled more than $100,000 last year, and we're hoping for much success resulting in generous support again this year.
When our seniors have exhausted their financial resources and are no longer able to pay for care or services, Bethesda's Humanitarian Care Fund is there for them. Hundreds of residents benefit with this campaign raising money from amusing events, such as Trivia Night, cookie sales, car washes, barbecues, pie throws, silent auction baskets and raffles, as well as from generous gifts of individual donors.
A gift to Hearts for Our Homes can be earmarked for a favorite Bethesda community or service. Donors who give $50 or more receive an imprinted Bethesda eyeglass case – there is a limited supply, so don't miss out! To make a gift online today, click here.

Join Us for Trivia Night, Friday, June 10
In addition to supporting Hearts for Our Homes with a donation, Bethesda welcomes your participation in our annual Trivia Night, Friday, June 10 at Bethesda Dilworth.  Trivia night is open to the public, so gather co-workers, family, and friends and register your team. Bring your favorite appetizer. Beer and wine provided. Enjoy a fun-filled evening while raising money to help seniors. Prizes and fun throughout the night: mulligans, silent auction, 50/50 and more.
Doors open at 6:30 p.m. with trivia starting at 7 p.m.
Location: 9645 Big Bend Blvd., St. Louis, MO 63122.
Register your own trivia team here for $25 per person for a team table of 10.  You also can upgrade to $35 per person for a team table of 10 for the Royal Treatment Table to include pizza delivery, wait service all evening, and special notoriety with a royal crown and a 50/50 raffle ticket per player.
Open your hearts so residents will always have a place to call home at Bethesda. Make your contribution by June 3, 2016. Donate today!
2016 Hearts for Our Homes Ambassadors
Why Your Gift Is So Important
Your tax-deductible gift helps ensure that residents will always have a home at Bethesda.
Your support helps subsidize $16.5 million in humanitarian care (financial assistance) that Bethesda provides to residents in need.
Because giving begins at home, your support helps Bethesda to leverage other funding sources.